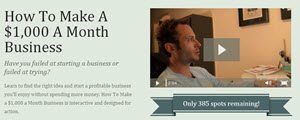 Bottom line: The course is worth the money
Let's face it. Authors are basically entrepreneurs. Only instead of startups, we create books. Each book is like a startup. I went into the course with that in mind.
I wanted to see if I could apply it toward the books I wrote.
Bottom line, what you learn in the course is:
1) How to get over your own fears of rejection and asking people for money
2) How to validate whether or not people are willing to pay for your business or book before you invest any money or time into it.
How to get over your fears
Noah makes you go out and ask your friends for a dollar. This can be in person or online. I found this frightening, but one way I found that helped me is telling people a valid reason WHY they're giving it. The why is the most important (see Simon Sinek's video on this). Conquering this was a mammoth milestone forward, as simple as it sounds.
How to validate whether or not people are willing to pay.
This is so important because in the case of books, people might get really excited about the book, tell you they're going to buy it, but when you put it up on Amazon, no one buys it. That sucks big time. BUT if enough people are willing to send you money right away to write the book, then you know you're on track. Amazon lets you set up pre-orders, but if you don't deliver, you are penalized. You might try other platforms that let you set up pre-orders and don't penalize. The challenge with pre-order is that books, especially eBooks is an impulse buy. If people have to wait, they may not buy so you may not get a real indication of whether or not there's interest. You can set up a crowd source type of project such as Kickstarter, GofundMe or IndieGoGo or there are WordPress plugins that allow you to set this up on your site and that might be a better way to go. But the easiest way is just to paste an excerpt on your Facebook with your Paypal address at the end for people to send you money if they want the rest of the story. You better follow through with it if they send you the money, though. If follow-through is a challenge for you, then don't do it.
Overview:
Worth it, but if you want to save money, review the two points above.
Note: I have no affiliation and do not receive any type of compensation for education people about or endorsing this product.